Kubek dziecięcy Contigo Gizmo Flip 420ml - cardinal rock
Bidon dla dziecka z technologią Autospout® która zapewnia niezwykłą wygodę podczas picia oraz 100% szczelności gdy butelka jest zamknięta.

Easy return of products within

14

days from the date of purchase without giving reasons
Free delivery from

40,02 €

Kubek dziecięcy Contigo Gizmo Flip 420 ml
Zamknięcie AutoSpout® - 100% ochrony przed przeciekaniem i 100% ochrony przed rozlaniem. Naciskasz - pijesz. Klikasz - zamykasz
Wygodna obsługa jedną ręką
Dzięki słomce dziecko pije bez odchylania głowy, przez co trudniej o zachłyśnięcie
Nakrętkę oraz korpus można myć w zmywarce
Bądź eko - zastąp plastikową butelkę Contigo
Ustnik gdy butelka pozostaje zamknięta jest chroniony przed zabrudzeniem
Posiada wygodny uchwyt do przenoszenia i przypięcia
Nie przenosi i nie utrzymuje zapachów płynów
Wykonane z materiału wolnego od BPA
Kupując Contigo za każdym razem dostajesz wyjątkowy produkt, dopracowany w najdrobniejszych szczegółach

Tylko jedno naciśnięcie przycisku
Aby otworzyć butelkę wystarczy nacisnąć jeden przycisk, który otwiera ustnik. Pije się z łatwością, szybko gasząc pragnienie. Zamykasz butelkę jedną rękę, chowając go pod osłonę ustnika. W 100% szczelne zamknięcie i 100% ochrona przed zabrudzeniami. Dzięki słomce wygodnie się pije bez przechylania np. podczas jazdy rowerem lub samochodem. Idealny na długi trening.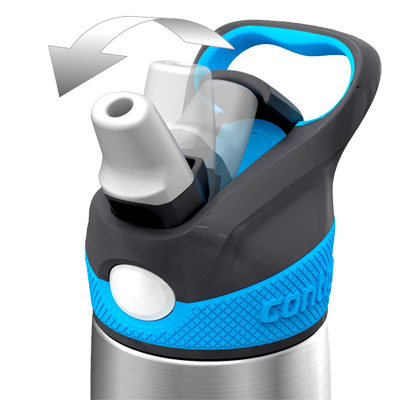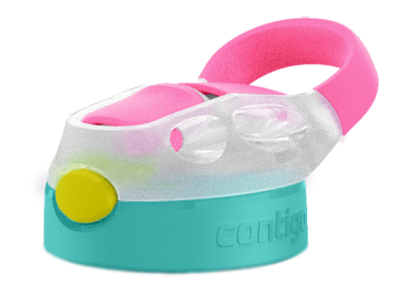 Ważna jest higiena - kubki łatwo jest umyć
Taki cel przyświecał projektantom od początku. Żadnych zakamarków, żadnych zamkniętych przestrzeni, żadnych luźnych części, które można zgubić... Po prostu odkręcasz nakrętkę i myjesz pod bieżącą wodą lub wkładasz do zmywarki.
Czerwony