Water bottle Contigo Cortland 720ml - Smoke
✅ An excellent bottle, indispensable during training and everyday outings
✅ Practical scale on bottle enables you to check how much water you have drunk
✅ Extremely durable and resistant to mechanical damage - BPA-free Tritan material
Water bottle Contigo Cortland 720ml - Smoke
This sensational water bottle is indispensable for training, excursions and everyday outings to work, the cinema, shopping or university. The practical graduation on its body makes it possible to precisely keep track of the amount of water drunk. This makes the Contigo Cortland the ideal companion for anyone wishing to take precise care of their hydration.
large capacity 720 ml
100% airtight
practical, printed graduation scale
easy cleaning
handle for easy carrying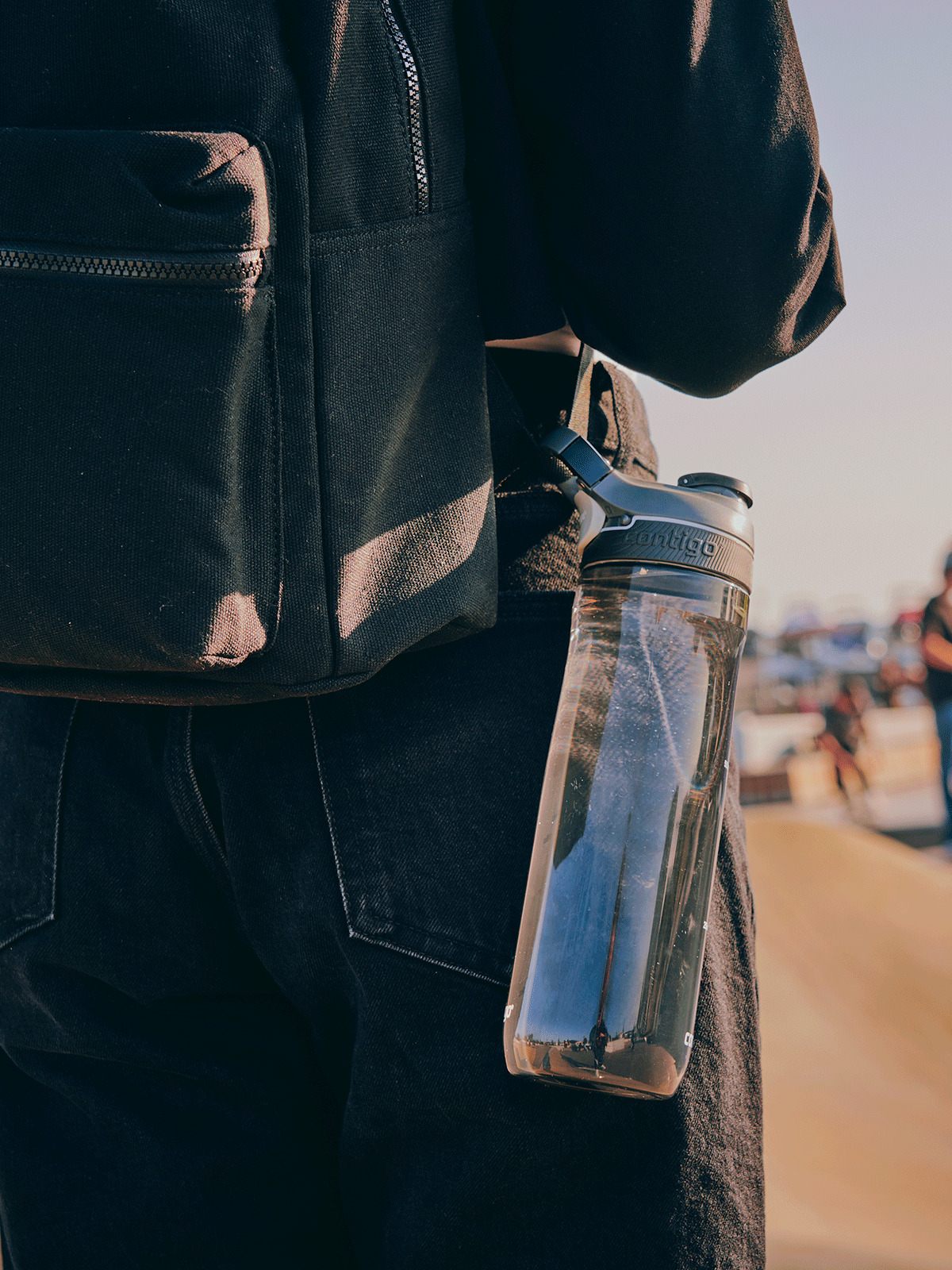 Contigo Cortland bottle with AutoSeal - fully leak-proof
Thanks to the patented AutoSeal system bottles Cortland have 100% protection against leaks and accidental spills. In addition, the closed mouthpiece with a practical stopper is hygienically protected throughout the day, even when carried in a bag or backpack.
Convenient one-handed operation
To open the mouthpiece, simply release the lock and press the button. Closing the mouthpiece is just as easy - you just need to drop the flap, then lock it against accidental opening with the sliding element. You can do all this with one hand even when you are driving, running or cycling. Thanks to this bottle Contigo Cortland It is suitable for both comfortable sporting activities and for use on any journey.
Precise graduation
Not sure if you have drunk enough fluids during the day? You can check this thanks to the practical scale on the case. Anyone bottle Contigo Cortland 720 ml It has markings for 250 ml and 500 ml quantities - so it measures successive glasses of liquid drunk. In total, you can fit 3 glasses of water or other cool drinks in the bottle.
Tritan bottle
Tritan is a safe plastic that does not contain harmful bisphenol A (BPA) in its composition. In addition, it is scratch and impact resistant and extremely lightweight. But that's not all. Water bottles Cortland made of tritanium do not react with organic compounds present in the beverages, so that the water or juice always has only its taste. The UV and weather resistance of tritanium is also worth noting.
Additional benefits of the Cortland Contigo bottle
There are at least a few more important pluses with which the products discussed here stand out. These include:
a large, clip-on handle so that you can not only carry the bottle easily in your hand, but also quickly attach it to dedicated places in your rucksack or handbag;
the entire bottle is dishwasher safe, both the body and the cap;
push-button locking for extra security on the move;
fits snugly into most car and bicycle bottle cage holders;
high resistance to mechanical damage.
AUTOSEAL®

Convenient one-handed operation